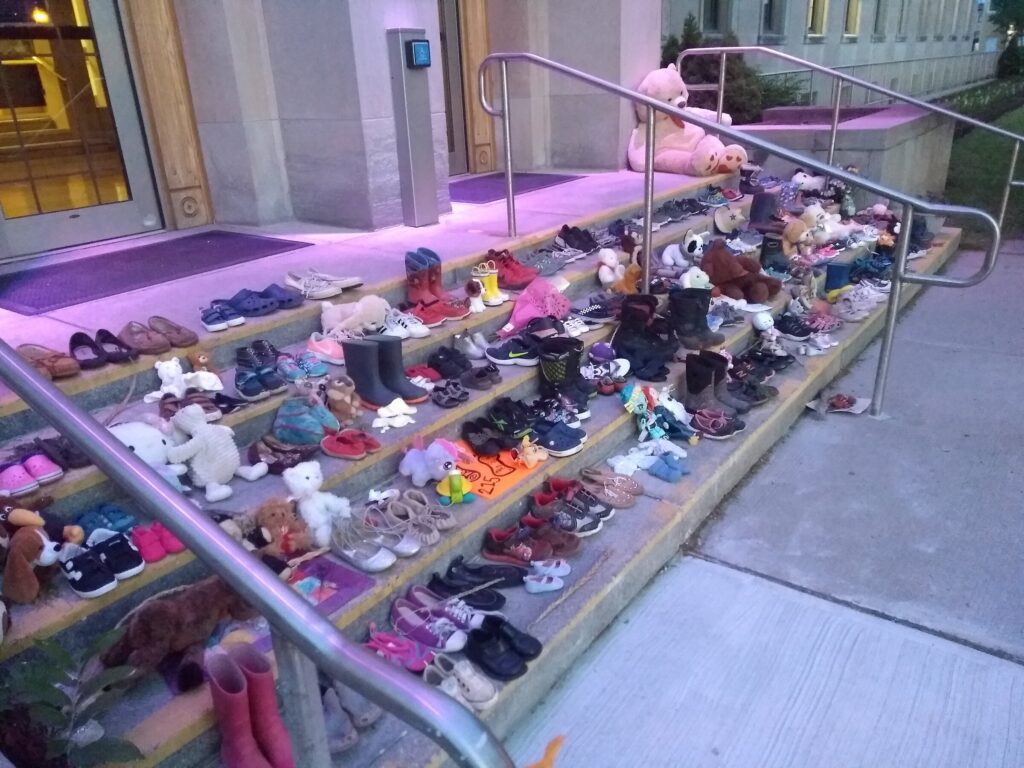 The staggering news about the graves found at the Kamloops Indian Residential School broke across the country on the May 24 long weekend. The impact of this news continues to echo across the country as non-Indigenous citizens continue to listen, try to understand and for some, try not to look at what has happened. Indigenous people have lived with intimate knowledge & experience of this abuse for decades. Now the rest of us must make room for these disturbing images in our national mirror.
Reports about the abuse that occurred in the Indian Residential Schools across Canada are beginning to break through our best efforts to ignore them. The 2017 film Indian Horse was shot here in Peterborough using the former convent at the Mount as a stand-in for a residential school. The film, based on the 2012 novel of the same name by Richard Wagamese, traces the life of a gifted Indigenous hockey player from his childhood to late adulthood. As a child this hockey player attended a residential school; the film explores the abuses he suffered at the hands of school staff and the impact of this abuse on his career.
A large auditorium at Trent University here in Peterborough is named after Chanie Wenjack, an Anishinaabe boy who at the age of 12 ran away from a residential school in Kenora and died of starvation and exposure while trying to walk back home to his family at Ogoki Post, 600 kms away in the fall of 1966. The Tragically Hip singer Gord Downie wrote a concept album based on Wenjack's escape. The album, dubbed Secret Path, was released on October 18, 2016, along with a concurrent graphic novel of Wenjack's story by novelist Jeff Lemire and an animated film that aired on CBC Television.
So, the story of the residential schools has been told, but not everyone has listened. This is not simply another news item we can hear, then ignore.
The former Senator and Chair of the Truth and Reconciliation Commission, the Honourable Murray Sinclair, has said that he fully expects more graves to be discovered. The official estimate published by the TRC references a possible 3 to 4 thousand additional victims. Sinclair has said he personally fears the number could possibly wind up being in the range of 15 to 25,000 once all the graves are discovered across Canada.
Our politics panel also looks at pandemic management in Ontario, Doug Ford's vacation plans, the likelihood of a federal election this year and the never-ending tragedy of homelessness in Peterborough. Thanks to panelists Sean Conway, Jenny Lanciault and Sylvia Sutherland for their insightful comments. This episode was recorded online on June 5, 2021. We have been recording online since the beginning of the pandemic in March 2020. Our studios at Trent Radio House remain closed until further notice.